Will or Should All Churches Survive Until the Rapture?
The question whether the local church should survive until the Rapture is a thought-provoking one. Most people would probably say, "Of course!" but Solomon tells us "To everything there is a season, and a time to every purpose under the heaven." The church as the body of Christ will never die, that is certain. At the Rapture, Christ will gather His Bride, and there will be no more "season or purpose" for the Bride to meet as local churches; we will be in His presence. Every local church, though, in a corporate sense, will end at some point because local congregations have a life cycle. As long as the Lord tarries and there are believers on the earth, every congregation will experience birth, growth, decline, and death.
Depending on whose statistics you use, there are 5,000 protestant churches closing every year. That equates to fourteen churches closing every day.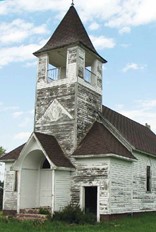 The Barna Research Group tells us:
Churches are losing 2.765 million people every year.
Sunday school attendance dropped by 50% between 1968 and 2005.
Only 21% of Americans attend any weekly religious service.
 We all know churches that are trying to survive.  One writer estimates that only 10% of churches are growing and thriving. That means that 90% of churches are in decline or dying. Is survival a good reason for a church to continue meeting?  The wrong reasons to continue are:
"My church has a building."
"My church has some money."
"I want this to work."
"My church should never close."
Helping churches make this important life or death decision is why Baptist Church Planters established a closure ministry. In 2004 ChurchCare was established and incorporated as a subsidiary of BCP to minister to churches in crisis.  ChurchCare has counseled dozens of churches to ask the hard but necessary questions:
What evidence is there that God is still working in the church?
Where have all the people gone and why?
Is there an identifiable time or an event in the past that the church missed obeying the will of God?
Is there Biblical leadership? (pastor and deacons)
What real and objective reasons are there to think that more time or effort will make a difference?
Is there a recent identifiable "God Moment" in the life of the church?
Is the church assuming that their desires are God's desires?
As we read in God's Word, endings are a normal part of life (Ecclesiastes 3:1-11). Some endings are the result of something gone wrong; some are just a result of aging and change. Why should ChurchCare provide closure counseling?  ChurchCare can help churches die with dignity and even leave a legacy.
 The remaining members need encouragement that God still loves them; they still belong to Christ.
Grief is normal because of a sense of loss. Counsel is helpful for those in grief.
The remaining members need direction to a growing church to find leadership and shepherding from a pastor.
The remaining members need counsel that leaving a legacy is possible and critical (II Corinthians 8:21).
 ChurchCare will manage the legal issues, the financial issues, and the property maintenance until the assets can be redirected to church planting efforts.
It has been said that out of death comes life, such as when a seed dies in the ground to give life to a plant.  When a church closure is handled in a God-honoring manner, good will come from it.  "The closure of one church may be the beginning of many." 
David Whipple, ChurchCare Executive Director