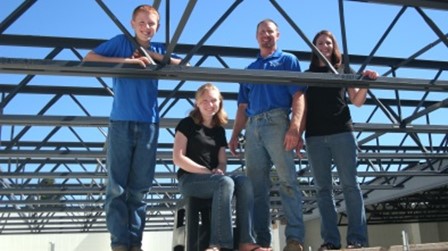 "What's it like to be a missionary builder's kid?"
We asked this question to Ryanne and Riley Howard, son and daughter of missionary builders Brent and Michele Howard, this question.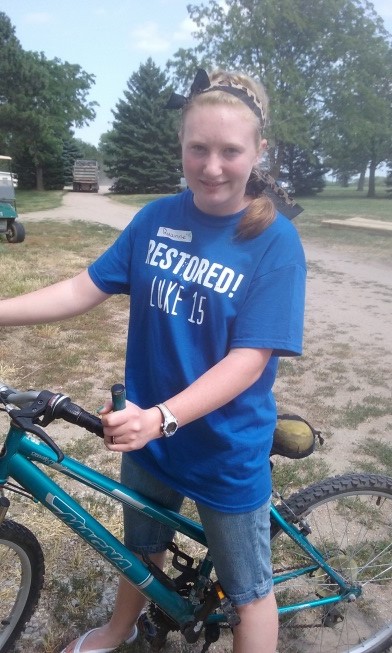 Hi, my name is Ryanne.  I am a missionary builder kid.  When we first started in 2007, I was only six.  I was a little nervous.  I broke down crying when mom told us we could only take ten toys with us into the fifth-wheel, thinking she meant one Barbie, one doll, one Polly Pocket, one game… until I had ten items.  I was soon corrected though when she explained I could take a small box of Barbies, a box of games, a box of doll toys…  When we finally got the fifth-wheel, my brother Riley and I got excited.
On the first job there was one family that we really connected with.  On the weekdays, we spent our time playing outside and doing kindergarten.  The second job was Roaring Brook Baptist Church in Hunlock Creek, PA.  We soon made lots of friends there.  One family in particular was the Brubakers.  We had lots of fun with them and have kept our friendship over the years as we have visited there and entertained them on several job sites as their dad brought work teams to come help.  On the next job, at Fellowship Baptist Church in Watertown, NY, we made many friends and got close with the Hopkins and the Mains.  We helped a lot on the job there and made several forts.  The job after that one was Heritage Baptist Church in Canastota, NY.  There were lots of kids there, and we are still close with a lot of them.
We often spend about a year on each job, but after Heritage we went out west and did three small jobs. Each of them took one to four months.  After those jobs we went to our biggest project yet, which was First Baptist Church in Memphis, NY.  This project took a year and a half.  At this job we liked to help, and we built a snack shack where the guys would come for drinks.  Other things we liked to do there were four-wheeling outside and rollerblading inside.
After this job, we got a six month break at home where dad did some odd jobs for churches in our area.  Riley and I enjoyed our break, but we were soon back on the road headed to Calvary Baptist Church in Preble, NY.  There weren't very many girls my age here, but the Weavers were testing out missionary building and they had a girl my age.  Her name is Grace.  This was really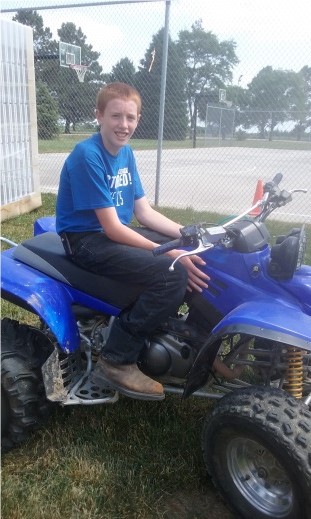 fun for me because I got to see her almost every day.  Another cool thing about Preble was the Salvation Army that my mom and I really liked.  Like all the jobs, we soon had to leave.  The next big job we had was Stanfordville Baptist Church in Hallstead, PA.  One of the highlights for me there was all the young children.  The pastor has six kids under the age of eight, and the youngest one was one year.  She really liked me, and I liked to hold her, so it made it harder to leave.  One other highlight was going horseback riding with a girl in the church.  I really love going around and seeing lots of places, meeting new friends, and building for churches who otherwise would not be able to afford a new building.  This is up to date now and we will be headed out to Nebraska to build a house for a Christian camps' director.
Hi, my name is Riley. I am fourteen years old. I can remember when I was four years old that we first started talking about being missionary builders. I was very concerned about leaving the things I knew, like my bedroom, my family, and my church. It helped a lot when we got our fifth-wheel trailer, and I could see what my bedroom was going to look like and where my toys were going to go. I still don't like to move as much as we do, but I do like to be able to see a lot of the U.S.
One of my good friends is Jake Hopkins. We first met at his church, Fellowship Baptist Church, in Watertown, NY, where my family was working on building a new sanctuary.  He would often come with his dad to Tuesday night work night, and we would work on our fort outside using scrap lumber and nails.  When we moved to the next job, he and his dad came and helped, and we again made a fort inside and outside. We made the one inside a "snack shack" and started to serve drinks and candy to the helpers. These are some of my favorite memories so far of being a missionary builder's kid.
I
also like being in all the different churches and finding things that I can do to help in each church, like mowing lawns for the pastor and people in the church, shoveling the sidewalk in the winter, making friends with the church kids, and gaining new (adopted) grandpas and grandmas. Some of the things that I like to do are riding four-wheelers, throwing hatchets and knives, hunting, and working with my dad on the job.