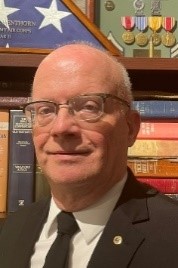 Mark Henthorn became our second Executive Director during our September 2022 board meeting. Previously, Mark was our interim Director of Construction, coming to us from Walnut Park Baptist Church, Muscatine, Iowa. There he serves as deacon, Sunday school superintendent, CE Committee Chair, AWANA worker, and small group leader. Mark also assists his pastors in intentional discipleship within the church body, in large part partnering with BCP (Baptist Church Planters). 
Mark accepted Jesus Christ as his Lord and Savior as a child. In 1966, he was baptized in his childhood church, Oak Street Baptist of Burlington, Iowa. He has been an active member of Baptist churches in Iowa, Kansas, Tennessee, Virginia, and California. He retired from his full-time professional career in 2018 and comes to ChurchCare with the desire to use all the spiritual and professional experiences and blessings that the Lord Jesus has bestowed upon his life. A quote of his, "If I am to live in the flesh, that means fruitful labor for me. My remaining goal is to live the rest of my days for Christ because here He promises He has something meaningful/fruitful for me to do if I am faithful and obedient to do so. Philippians 1:21-24." 
Henthorn is a professional engineer in Iowa and brings over 40 years of experience as an international consulting engineer, mainly in design and construction oversight. He earned his Bachelor of Science degree in mechanical engineering from Iowa State University. He is a lifetime member of the American Society of Heating, Refrigeration and Air-Conditioning Engineers. Henthorn worked for Black & Veatch of Kansas City, Missouri, and Stanley Consultants of Muscatine, Iowa. His past titles include Vice President, Federal Business Leader, Director of Professional Relations, Industrial Group Operations Manager, Regional Office Manager, Department Manager, Senior Project Manager, Principal Mechanical Engineer, and Resident Engineer. He also served over 20 years as an engineering officer in the U.S. Army Reserve, leaving with the rank of Major. Henthorn has taken an active role in planning, design, and construction of four church expansion projects for churches in which he was a member. Welcome to the family, Mark!